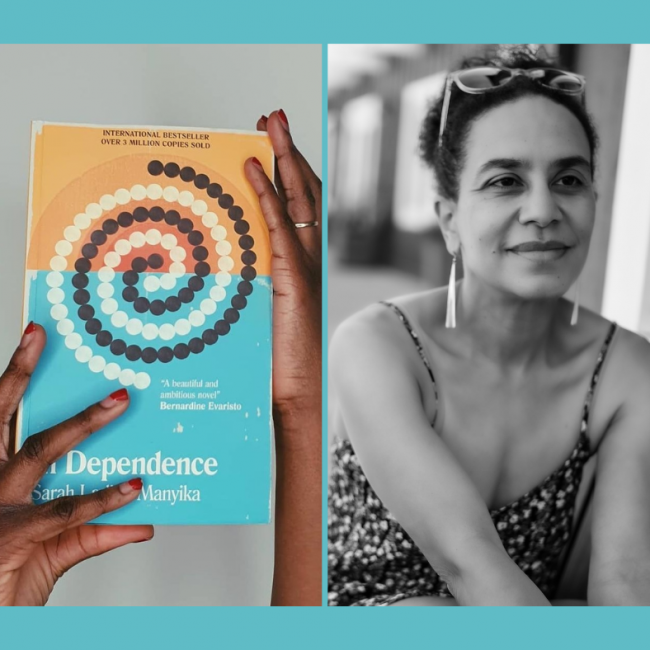 Sarah Ladipo Manyika and In Dependence are 2021 Audie Award Finalists
Cassava Republic Press author, Sarah Ladipo Manyika is a 2021 finalist at the Audie Award for her international bestseller novel, In Dependence in the category of author-narrator.
We are excited to announce that Sarah Ladipo Manyika is a finalist for the 2021 Audie Award, the Oscar of audiobooks, for her multi-generational novel In Dependence in the author-narrator category. Sarah's narration and nomination of In Dependence sits alongside previous illustrious world-renowned nominees for the Audie that include, Michelle Obama, Trevor Noah, Tom Hanks, Meryl Streep, Emma Thompson, Margaret Atwood and many more. This nomination makes Sarah's the first book published by an African publishing house to be nominated in this category in its 26-year history and we hope it will be the first of many to come.
For Manyika, this nomination has left her feeling "thankful and honoured" because she believes in the power of voice as a "powerful medium". She connects her passion for the audiobook space to the pleasure that she found in listening to other author-narrators who have inspired her from Toni Morrison reading her novel Beloved to Louise Erdrich reading her novel The Night Watchman. She also conveys a deep resonance with actress Ruby Dee's reading of Zora Neale Hurston's Their Eyes Were Watching God, stating: "a well-read book is such a treat."
The contribution of Recorded Books; RB media's flagship audio book publishing house, must be noted because it is the care and dedication with which they approached the recording of In Dependence as audiobook that really allows for Sarah Manyika's voice and story to shine.
Sarah Ladipo Manyika is up with fellow author-narrators that include Alicia Keys, Danez Smith, Mikel Jollett, Jenny Slate, and Flea. The winner will be announced at the virtual, live-streamed Audie Awards Gala https://www.audiopub.org/audies-gala on March 22nd.
Of Manyika's nomination at the Audie Award, Cassava Republic director Bibi Bakare-Yusuf says: "I am not at all surprised that Sarah's melliferous narration has been selected as a finalist. Having sold over 3 million copies internationally, I am elated that she is now recognised as multi-talented and more people will get to hear this incredible story of passion and idealism, courage and betrayal; a brave but bittersweet love affair in uncertain political times brought to life by the author. Manyika's narration of In Dependence is exquisite as she brings her characters to life with an array of accents and even languages. This is a sonic treat!"
Readers can enjoy Sarah's narration of her internationally acclaimed story on Audible, audiobook.com, scrib'd, Google books, Apple books and storytel. Other Cassava Republic title audiobooks can also be enjoyed on these platforms.
Sarah Ladipo Manyika was raised in Nigeria and has lived in Kenya, France, Zimbabwe, and England. Sarah is a novelist, short story writer, and essayist and founding books editor for Ozy.com. Her second novel, Like a Mule Bringing Ice Cream to the Sun, also published by Cassava Republic Press (Abuja), has been translated into six languages. Her nonfiction includes personal essays and intimate profiles of people she meets from Mrs. Harris and Pastor Evan Mawarire to Toni Morrison, Margaret Busby and Michelle Obama. Sarah serves as Board President for the women's writing residency, Hedgebrook, and she is creator and host of the Museum of the African Diaspora's Conversations Across the Diaspora https://www.moadsf.org/blog/conversations-across-the-diaspora-hosted-by-sarah-ladipo-manyika/. Sarah is a fellow of the Royal Society of Arts, a San Francisco Public Library Laureate, and a member of the National Books Critics Circle. Find out more about Sarah on her website.
Cassava Republic Press was founded in Abuja, Nigeria, 2006 to bring high-quality fiction and non-fiction for adults and children alike to a global audience. We have offices in Abuja and London. Our mission is to change the way the world thinks about African writing. We believe that contemporary African prose should be rooted in African experience in all its diversity, whether set in contemporary filthy-yet-sexy megacities such as Lagos or Kinshasa, in little-known communities outside of Bahia of the recent past, or indeed in the near future. Visit their website here.