Black Woman Writing: Sacred & Sensational
"No black woman writer in this culture can write 'too much'. Indeed, no woman writer can write 'too much'…No woman has ever written enough."

– bell hooks
This week has reaffirmed for us, the honour it is to be a publisher of works by Black writers across the diaspora. The privilege to be a part of the two books that we published this week is not one that we take for granted.
An Unusual Grief is Yewande Omotoso's "superb, introspective and beautiful" ode to grief and motherhood. A complex and compelling exploration of the South African BDSM scene, this is a story that is both deserving and demanding of your time.
In Mojisola is a character that you have thirsted for and reading An Unusual Grief is like drinking from a cool spring after hours of traipsing through a hot desert. Fans of Sarah Ladipo Manyika's Like A Mule Bringing Ice Cream to the Sun will quickly add this novel to their list of repeat reads.
Wild Imperfections: An Anthology of Womanist Poems is a congregation of womanists poems threading together, past, present and future of diasporic Black woman/xn/yn-hoods. In this groundbreaking anthology, you will encounter the voices of poets: Nikki Giovanni, Warsan Shire, Staceyann Chin, d'bi.young Anitafrika, Olumide Popoola, Jumoke Verissimo, Lebogang Mashile, Malika Booker, Ladan Osman, Jackie Kay and more.
Wild Imperfections is to poetry, what New Daughters of Africa has been to prose. This is a scared text, one that you will call on again and again to speak to moments in your life and affirm this journey called life.
---
---
Discover Black Women Writing
---
How do you get to know your daughter when she is dead?
This is the question which takes a mother on a journey of self-discovery. When her daughter Yinka dies, Mojisola is finally forced to stop running away from the difficulties in their relationship, and also come to terms with Yinka the woman. Mojisola's grief leads her on a journey of self-discovery, as she moves into her daughter's apartment and begins to unearth the life Yinka had built for herself there, away from her family.
Through stepping into Yinka's shoes, Mojisola comes to a better understanding not only of her estranged daughter, but also herself, as she learns to carve a place for herself in the world beyond the labels of wife and mother. A bold and unflinching tale of one women's unconventional approach to life and loss.
---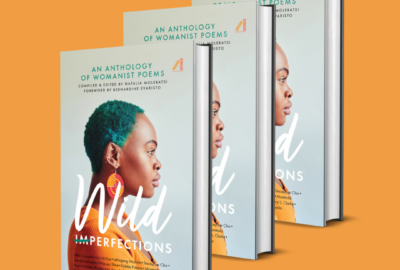 Wild Imperfections: An Anthology of Womanist Poems edited by Natalia Molebatsi
"This multi-generational, cross-cultural anthology […] is infused with multiple perspectives, aesthetics, preoccupations and sensibilities. It offers up a broad sense of community between Black women writers who are consciously interrogating what it means to be human from our unique perspectives." 

– Bernadine Evaristo
Featuring the work of Black women poets from Botswana to Brazil, in this collection, we encounter ancestors who made love, just for the sake of love, and women who die with each orgasm while attempting to mark the extent of their own humanities.
This is for the nuns, the singers, the clowns, the diviners and the conjurers who reject the constant attempt to clean up history. The wildly imperfect women of slick braids, shiny skin and succulent lips, building new homes from clouds for future legions.
Here congregate the women, womxn and womyn who do not believe in tough love that disguises hurt just to prove a point. They dance with the dead with exquisite feet, cheekbones high, reflecting their mothers' smiles.
Because no one claps for martyrs, these dirty/pretty women learn to walk cities like they own them, choosing the battles of their hearts.
If this collection teaches anything, it is that love is always messy, that our sacrament requires wet wipes and that we are just flesh and bone honing practice.
Contributors include iconic poets such as Nikki Giovanni, Diana Ferrus, Miriam Alves, Jackie Kay, NourbeSe Phillip, Cheryl Clarke, Lebogang Mashile, Staceyann Chin, Olumide Popoola, Makhosazana Xaba, Koleka Putuma, Safia Elhillo, Gabeba Baderoon, Warsan Shire, Ladan Osman, Anni Domingo, Elizandra Souza, and Jumoke Verissimo.
---
---
Both books are available to purchase via our website, bookshop.org or anywhere where books are sold. Also do take out time to request these books at your local libraries.