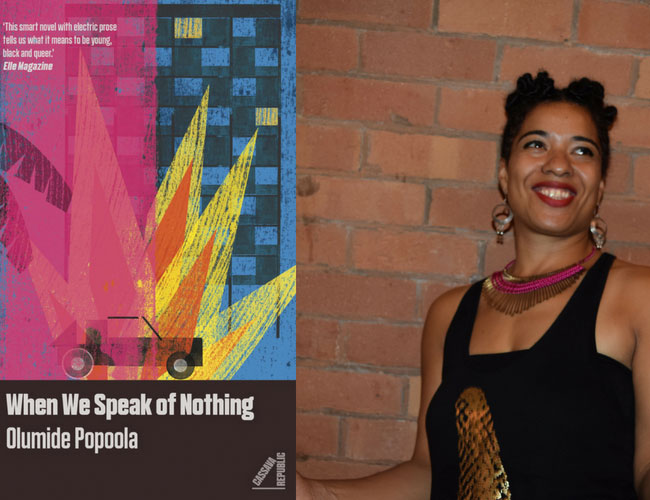 When We Speak of Nothing Turns One!
Pride Month may be over but there's still room for celebration! We're celebrating one year since the publication of Olumide Popoola's amazing debut novel When We Speak of Nothing, a book that captures what it's like to be young, black and queer.
It has been a year since Olumide stunned us with her book that challenged our assumptions and stereotypes of what it is to be young queer and black in the UK and in Nigeria. A year since we were bowled over, by the way, Olumide expressed and immortalised the f rhythms of London slang. A year since Olumide immersed us in London's Kings Cross which is being gentrified beyond recognition, and to a Port Harcourt whose environment is still being ravaged by the oil industry.
Photos from the London Launch Party
Olumide's book deserves a huge birthday celebration because its originality and its warmth are rare. Her characters still linger with us and the issues she shone a light on still need to be discussed. The joys and the struggles of the marginalised characters Olumide centres in her novel are still relevant because, amidst all the talk of diversity and inclusivity coming from all sectors, there are still constant reminders that much more action is still needed. For every voice appealing for inclusivity and for empathy, there are voices trying to silence and dehumanise the most marginalised in the world.
We only have to look at the statistics to remind ourselves that things need to change.
Or
Two in five trans people have experienced a hate crime or incident because of their gender identity in the last 12 months
The number of LGB people who have experienced a hate crime or incident in the last year because of their sexual orientation has risen by 78 percent since 2013
Four in five LGBT people who have experienced a hate crime or incident didn't report it to the police
One in ten LGBT people has experienced anti-LGBT abuse online directed towards them personally in the last month. This increases to one in four for trans people directly experiencing transphobic abuse online in the last month.
(Taken from The Gay British Crime Survey (2013) and LGBT in Britain – Hate Crime2017)
LGBTQI people, poor people, and migrants continue to be oppressed, to be dismissed and to be discriminated against.
Writers like Olumide Popoola are crucial in the fight against discrimination and exclusion because they remind us of the humanity of the numerous voiceless, powerless individuals whose right to exist continues to be questioned because they are silenced by the intolerance of others. Olumide's book has the power to transform lives by giving a voice to those all too often marginalised.
Happy, happy birthday When We Speak of Nothing!