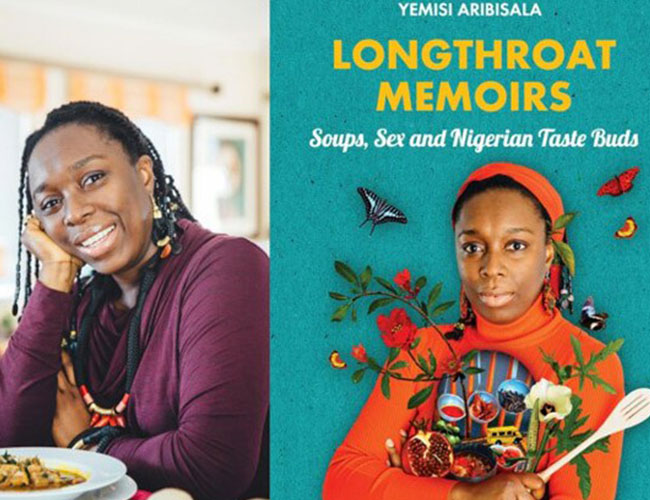 Longthroat Memoirs Wins John Avery Award
Cassava Republic Press is delighted to announce that Longthroat Memoirs: Soups, Sex and Nigerian Taste Buds  by top Nigerian food writer Yemisi Aribisala has been awarded the prestigious John Avery Award at the André Simon Food and Drink Book Awards.
The same award was won last year by Jamie Oliver for  Super Food .
At last night's award ceremony at The Goring Hotel, Cassava Republic Press Publishing Director, Bibi Bakare-Yusuf, accepted the award on behalf of Yemisi Aribisala and read a note of thanks from the author:
"There was nothing I wanted to do more with this book than bring it to a dinner conversation with like-minded, passionate and engaged people. This book tells the truth about every single Nigerian. This is our food. These are our stories. This is just a slice of our humanity. These are many of the good things we have to offer the rest of the world. I take a lot of pride in being Nigerian. I wrote this book for us but how wonderful it is to share it with you."
The judges were excited by Aribisala's mouth-watering account of Nigerian culture revealed through her lyrical examination of the relationship between food, politics, religion, ethnicity and sex.
Food writer and historian Bee Wilson, this year's food assessor, said:
"Longthroat Memoirs by Yemisi Aribisala is a breathtakingly original and fresh piece of food writing, which I found myself not just reading but compulsively re-reading. In her wit and truth telling, Aribisala's voice reminded me of the writing of M.F.K. Fisher. Whether she is writing about the mucilaginous properties of okra soup or the sensuous appeal of eggs, Aribisala is that rare writer who makes you laugh while also informing you about Nigerian food, which, as she points out, is something that has been 'misunderstood, atrociously photographed, not yet given its due'. Thanks to this book, this should now change."
Cassava Republic Press Publishing Director, Bibi Bakare-Yusuf, said of the book:
"Longthroat Memoirs puts Nigerian food culture on the global map. It tells the story of how food reflects the intimate side of a culture and offers the context for reading all Nigerian recipe books. Whether you are Nigerian or not, this book is a beautiful read, introducing a terrifically talented writer onto the global stage. This book is our first food title and was a real labour of love. Cassava Republic Press is proud and delighted to have won this prize, especially against such strong competition.'
About the award:
The highly regarded André Simon Food & Drink Book Awards were founded in 1978 and are the only awards in the UK to exclusively recognise the achievements of food and drink writers, as well as being the longest continuous running awards of their kind. Past winners include Elizabeth David, Rosemary Hume, Michel Roux, Nigel Slater and Rick Stein.
About the book:
Longthroat Memoirs presents a sumptuous menu of essays about Nigerian cuisine, lovingly presented by the nation's top epicurean writer. As well as a mouth-watering appraisal of the cultural politics and erotics of Nigerian food, it is also a series of love letters to the Nigerian palate. From the cultural history of soup, fish as aphrodisiac and the sensual allure of snails, Longthroat Memoirs explores the complexities, the meticulousness, and the tactile joy of Nigerian gastronomy.
About the author:
Yemisi Aribisala is a writer and a lover of good food. She has written about Nigerian food for over seven years; for 234Next, the Chimurenga Chronic, and at her personal blog, www.longthroatmemoirs.com. Her essays on food are a lens through which the complex entity of Nigeria is observed. Yemisi has also written essays on various topics including Nigerian Christianity and identity. Her essays can be read online under Yemisi Ogbe.
For further information please contact:
UK:                  Sue Foster: [email protected] or 07710 381063
Nigeria:          Kofo Okunola: [email protected] or +234 818 580 1657