Description
Elnathan John is one of Nigeria's most well-known contemporary satirists. He has twice been shortlisted for the prestigious Caine Prize for African Writing (2013 & 2015). His writing has been published in Per Contra, Evergreen Review and Chimurenga's The Chronic. His debut novel, Born on a Tuesday, won the Betty Trask Award 2017. He is one of the judges for the 2019 Man Booker International Prize.
This heat. One needs these drugs to make it through this weekend. I'm about to just start walking around naked because this heat... https://t.co/ahGWyBRzSp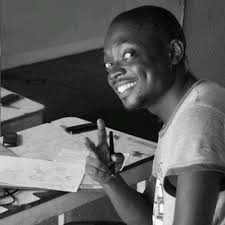 Alaba Onajin is a published Freelance Cartoonist and Illustrator, currently based in Ondo, Nigeria. His work includes Anike Eleko, a children's comic book on girls' education and other art collaborations with UNESCO on the Role of Women in African History Project.
Penny Dreadful City of Angels finale:
Fantastic Series. The themes of race, discrimination, police brutality and hunger for power explored in this series especially the finale is so relevant today it shouldnt be ignored. Big shout out to NatalieDormer
#PennyDreadfulCityofAngels
https://t.co/NEkllFyztX