8 books about black hair to read with your child
For many people from African and the Caribbean, hair is an important part of identity and therefore political. Today, the politics of hair has become an important part of pop cultural conversation, with numerous think pieces and even Netflix getting involved, with the upcoming film, Nappily Ever After. Despite this renewed focus, there still remains a lack of representation and celebration of black hair in the media.
This lack of representation is also present in children's literature where there are a small number of books depicting the young black child experience. Here, we have compiled a list of children's picture books that we think will appeal to all children, whether because it is finally reflecting their experience or because it introduces them to a new experience. These books are aimed at giving kids confidence, and showing them that they can appreciate their hair no matter what texture or style it is in.
1
. Hair, It's a Family Affair by Mylo Freeman
Written and illustrated by the celebrated author of the Princess Arabella Series, Mylo Freeman, Hair, It's Family Affair is a children's picture book about a young girl Macy and the different kinds of hairstyle found in her family, from big Afros to purple hair, and everything in between. Set during a Show and Tell class session, it is clear that Macy takes great pride in the diversity of her family's hair!
Mylo highlights the endless possibilities of Afro hair which will encourage children to see the sheer diversity of Afro hair and provide them with a template of what their own hair can look like, irrespective of their race or gender.  Out now from Cassava Republic, Hair, It's Family Affair is a joyful and educational book for young children.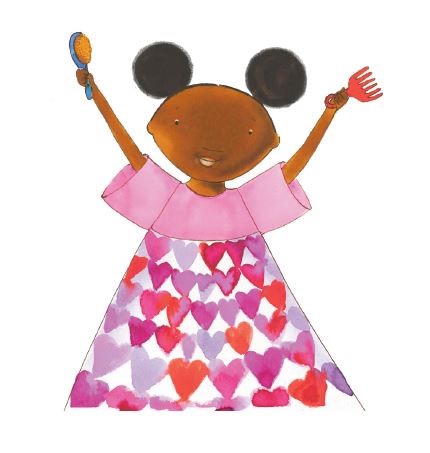 2. Princess Hair by  Sharee Miller
Princess Hair celebrates the versatility of black hair showcasing the different styles and textures. Sharee Miller shows that princesses don't need flowing blonde hair, as her princesses show off their braids, blowouts and twists! This celebratory book is perfect for encouraging self confidence in kids.
3. I Love My Haircut!  by Natasha Anastasia Tarpley
It is Miles first time getting a haircut at the barbershop with his dad and he is worried it will hurt. I Love My Haircut captures an important rite of passage, and also highlights the bond between father and son.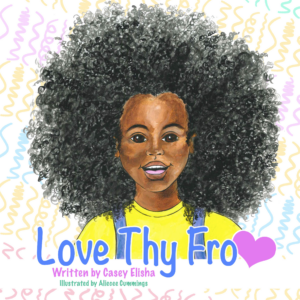 4.  Love Thy Fro by Casey Elisha
A simple story about a young girl who really loves her big curly Afro!
This much loved picture book is also being turned into a musical, which will run at Theatre Peckham as part of Black History Month in the UK!
5. Crown: An Ode to the Fresh Cut by Derrick Barnes
Derrick Barnes captures the magic of the barber shop experience in Crown: An Ode to the Fresh Cut, and the confidence that comes with a new hair cut.
6. Big Hair, Don't Care by Crystal Swain-Bates
Lola's hair might be bigger than the other kids at school, but that doesn't mean she loves it any less! Her enthusiasm in infectious in this fun picture book that will have children insisting, Big Hair, Don't Care!
 7. I've Got My Hair Out by Nathaniel Phillips
Inspired by the author's relationship with his daughter, I've Got My Hair Out encourages children of all hair types to have self confidence.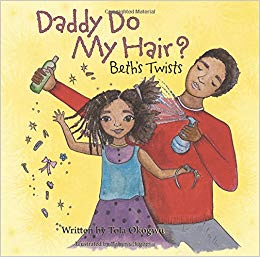 8. Sunday evening is a special time for Beth and her dad. Beth's Twists, the first book in the series Daddy Do My Hair?, takes readers on an adventure that explores the father-daughter relationship through hair. Centred around the familiar weekly Sunday hair routine, this book will resonate with the experience of many children.